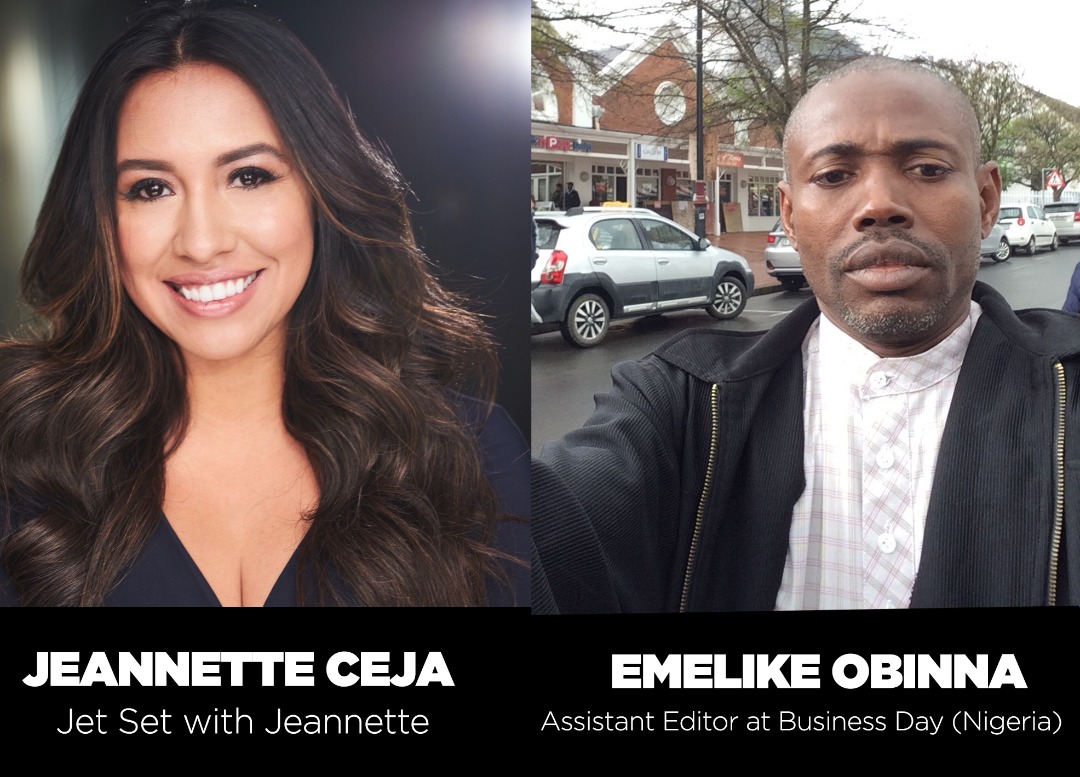 As the world celebrates the world tourism day today 27th September, Nigerian Travel Journalist Obinna Emelike of Business Day Newspaper and Jeannette Ceja a US Travel reporter and anchor of Jetsett with Jeannette looks at how travel journalists can contribute to making tourism a social force for good. 
Jeannette is a bilingual Travel Journalist, TV Host, Travel Advisor, and a Global Public Speaker. Her work has appeared on ABC7 Los Angeles, FOX 11 Los Angeles, Mexico Travel Channel, KUSI News, and many more media outlets around the world. This year, Jeannette was a speaker at The Women Economic Forum in Cairo, Egypt. While in Cairo, she received the award: Iconic Women Creating a Better World for All.
Last year, she was awarded as one of the top 20 Global Women of Excellence by U.S. Congressman Danny K. Davis and the Multi-Ethnic Advisory Task Force. Jeannette was also one of the nominees for Best Travel Creator at The Tecla Awards - part of the 10th annual Hispanicize conference - honoring Latinx contributions to media. This year, she partnered with Visit Pasadena as the tourism board's official bilingual spokesperson on National Plan For Vacation Day.
In 2018, Jeannette was the Official Travel Host for The World Woman Summit at the Clinton Presidential Center. Where she was recognized as Travel Host of the Year. The same year, Jeannette was named a Power Player by  Angeleno Magazine. A respected Speaker, Jeannette has spoken at travel conferences all over the world including The Women Economic Forum Mexico City, The Women in Travel Summit, The New York Travel Festival,  Tourism in Romania Conference, Impact Travel Immersion Conference, Epic  Mastermind Conference, Travel Talks and the Travel Unity- Economic  Development through Diversity Summit.
EMELIKE OBINNA is an award-winning journalist with over 10 years of experience. He majors in Travel, Tourism, and Hospitality, which he reports with passion. Apart from heading the Travel and Tourism Desk, the Assistant Editor at BusinessDay, scouts visitors for top destinations and he does flight checks for some airlines. He was a member of the Naija Seven Wonders expedition in 2014, a South African Specialist, and a recipient of the Tourism Reporting Seal of Honour by the Nigerian Tourism Development Corporation (NTDC). He won the Culture Category, CNN/Multichoice African Journalists Awards 2014, among other awards.