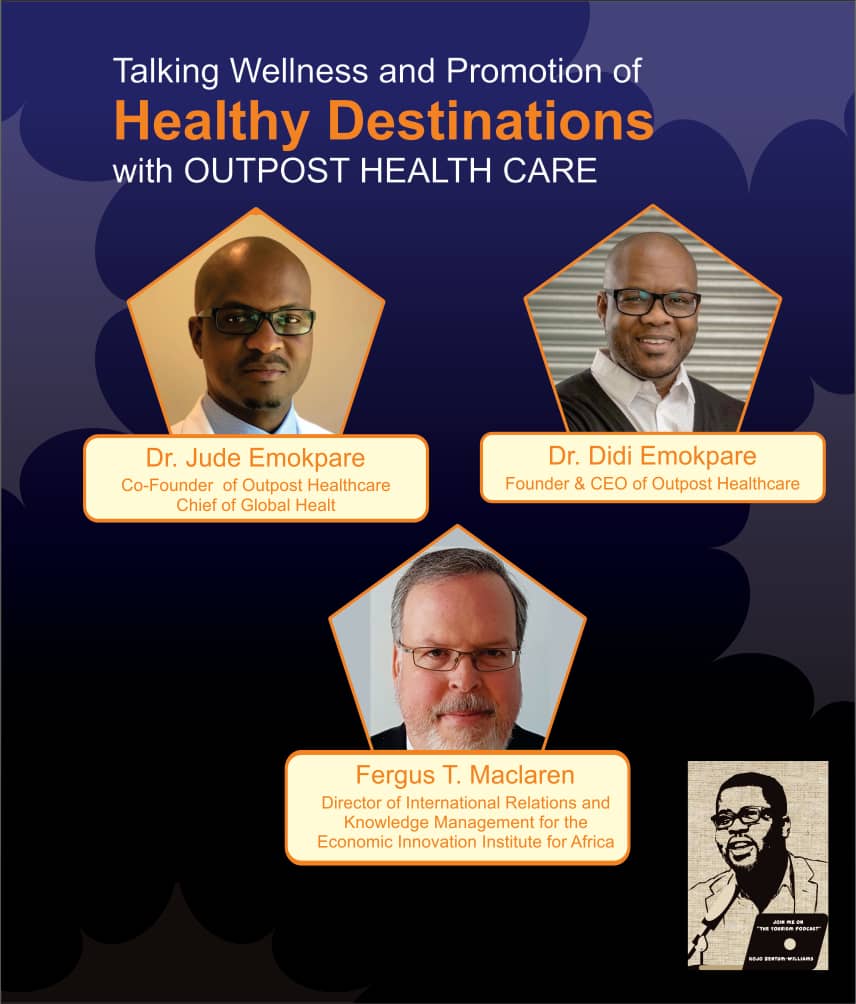 In this episode, Dr. Didi Emokpare, Dr. Jude Emokpare and Fergus T. Maclaren of Canadian based Outpost Healthcare delves into their project which seeks to encourage wellness while on vacation with their  Healthy Destinations program for African destinations and their experience as being selected amongst the 9 finalists at United Nations World Tourism Organization's Healing Solutions for Tourism Challenge. 
Dr. Didi Emokpare is a Board Certified Family Physician currently practicing as a Family and Addictions medicine Physician in Regina, Canada. He is the founder and Chief Executive Officer of Outpost Healthcare. He has over 25 years of clinical experience in a variety of countries including Nigeria, Trinidad & Tobago, St Vincent & the Grenadines, Grenada, Jamaica, the US and Canada. His areas of clinical interest and expertise include Addictions medicine, Indigenous, Public and Digital Health. He has published research papers related to Hepatitis C Virus management in Canadian First Nations peoples and the education of physicians in HCV management in association with the Canadian Liver Foundation.
Dr. Jude Emokpare is a Board Certified Family Physician currently practicing in Georgia, U.S.A. He is a Co-Founder of Outpost Healthcare and serves as the Chief of Global Health. Dr. Jude has an undergraduate degree in Microbiology from The University of Benin, Nigeria. He attended medical school at Saba University, School of Medicine. He completed his postgraduate residency training in Family Medicine at Columbus Regional Healthcare in Georgia. He is a Fellow of the American Academy of Family Physicians.He is an Associate Professor with a Georgia-based Medical School where he provides education to senior medical students in the hospital setting. He has worked in a variety of clinical settings including rural clinics, emergency rooms, and in-patient critical care and oncology units. Dr. Jude has also served as a medical director of a Georgia-based Regional Health organization, providing leadership, medical expertise and administrative oversight for a large multi-disciplinary acute care facility.
Fergus T. Maclaren, B.A. M.E.Des is a sustainable tourism and cultural heritage management professional with 25 years of experience in Canada and internationally, now focused on tourism at World Heritage sites and the 2030 Sustainable Development Goals. His background includes a broad range of tourism teaching, planning, destination management and community development expertise. He currently acts as the Director of International Relations and Knowledge Management for the Economic Innovation Institute for Africa, responsible for the development and implementation of their sustainable tourism program, where he assisted Outpost Healthcare with their UNWTO Healthy Solutions Challenge Top Finisher placement of their Africa-focused HealthyDestinations initiative in April 2020. Additionally, Mr. Maclaren serves as an Advisory Council Member for the Accra-based Heritage and Cultural Society of Africa (HACSA), as President of the International Council on Monuments and Sites (ICOMOS) International Cultural Tourism Committee, and sits on UNESCO's World Heritage-focused Task Force on Culture, Tourism and COVID-19: Recovery, Rejuvenation and Renewal.